50th Golden Wedding Anniversary Invitations
50th golden wedding anniversary party invitations with romantic, elegant, whimsical and funny themes. Choose from many card sizes, personalize with names, message & other info, depending on the design. Click on any image to search at Zazzle for the 50th anniversary invite card you want.
Please contact the artist who created the design if you have any questions or want other customizations.
Jump to Romantic & Popular Wedding Gifts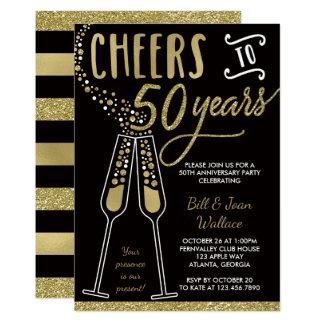 50th Wedding Anniversary Invitation, Faux Glitter Card
Celebrate 50 years of marriage with this beautiful anniversary party invitation. There's even a place for a photo of the happy couple on the the back! **Glitter and foils effects are embedded images of glitter and foil and will print flat. No actual glitter or foil will be on this item.** Other matching items can be found here (including a version with space for a photo): http://www.zazzle.com/collections/weddings_anniversaries-119569717597945545
by
DeReimerDeSign
$2.06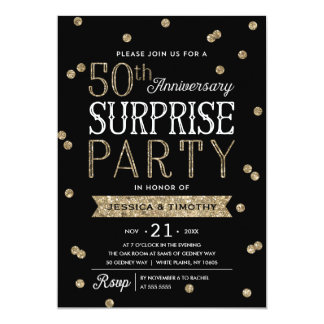 50th Anniversary Glitter Confetti Surprise Party Card
This chic and stylish 50th Anniversary Surprise Party invitation features an elegant rose gold glitter confetti theme with modern typography. Customize the background color to match your event's theme. For an even more memorable invitation select a die-cut shape, textured paper or a double thick paper. For a customized year, please message us and we will send you a direct link.
by
NBpaperco
$2.01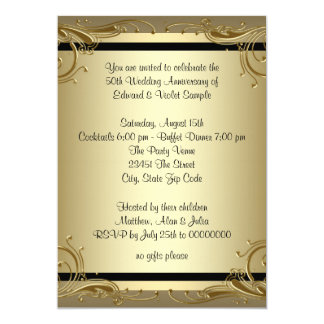 Elegant Gold 50th Wedding Anniversary Party Card
Beautiful gold swirls gold 50th wedding anniversary party invitation. This elegant black and gold swirls gold 50th wedding anniversary party invitation is easily customized for your event by adding your event details, font style, font size & color, and wording.
by
InvitationCentral
$2.05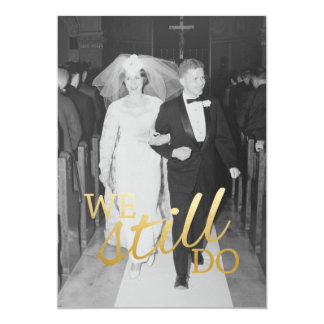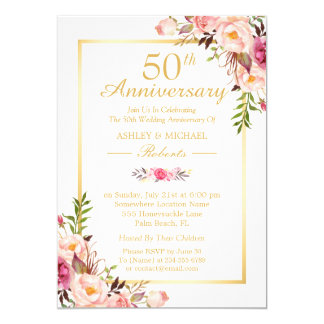 50th Wedding Anniversary Elegant Chic Gold Floral Card
================= ABOUT THIS DESIGN ================= 50th Wedding Anniversary Elegant Chic Gold Floral Invitation. (1) All text style, colors, sizes can be modified to fit your needs. (2) If you need any customization or matching items, please feel free to contact me. (In case you didn't get my response, please check the email SPAM folder) (3) You can find matching products (e.g. Invites, RSVP card, Reception Card, Thank You Card, Party Banner, Sticker, and more) via this link --> http://goo.gl/9VWzUR <--
by
CardHunter
$1.95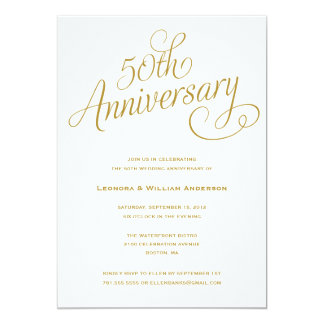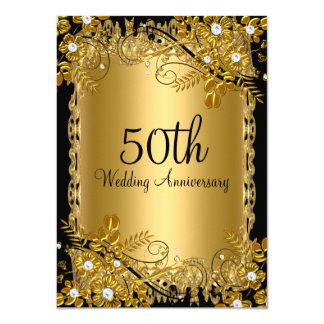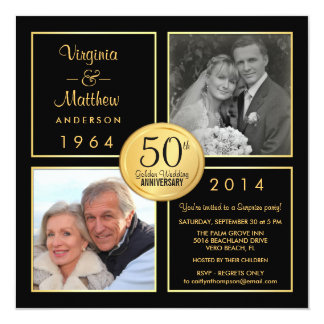 50th Golden Wedding Anniversary Surprise Party Card
Create your own fun and fabulous customized 50th Golden Wedding Anniversary Surprise Party Invitations -- two (2) "then and now" framed photo templates -- with beautiful gold-tone metallic-look shimmer emblem. Personalize the name, date, and details for your special Silver Wedding Anniversary celebration. **NOTE: Sized for SQUARE invitation cards. Other sizes and styles available for 50 years anniversary, birthday and other happy milestone celebrations.
by
th_party_invitations
$2.36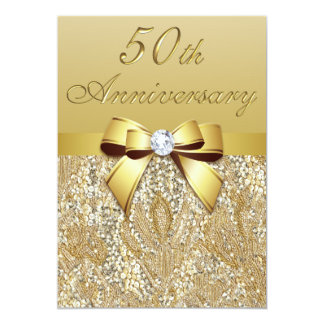 50th Gold Wedding Anniversary Faux Sequins and Bow Card
Elegant custom personalized 50th Gold Wedding Anniversary party celebration invitations with a beautiful glittery golden colors printed image sequins jewels, gems pattern, cute shiny gold printed bows and ribbons images and pretty digital diamonds bling jewels on a chic gold gradient background with brown text. Please note: All invites on Zazzle have flat printed images. These classy, glamorous, glitz and glamour invites for Golden wedding anniversaries are decorated / printed on both sides. Beautiful, chic, trendy, modern Fiftieth Anniversary Party invitations. If you need assistance customizing your product please contact me through my store. I will be happy to help.
by
GroovyGraphics
$2.16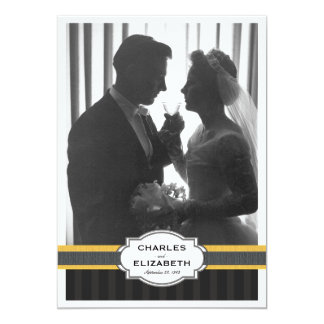 Elegant Gold Photo 50th Wedding Anniversary Party Card
Feature the celebrated couple with an original wedding photo or a photo from today in this lovely black, white and gold photo card party invitation. An elegant text with subtle tuxedo striped background with faux ribbon accent on the front that features a large photo of the special couple and makes for a beautiful presentation to family and guests. Each line of text is easily customized to perfectly suit your needs and party plans.
by
kat_parrella
$2.01
Current U.S. Zazzle Coupons
Shop Zazzle In: Canada | UK | Australia | New Zealand | España | France | Germany | Japan

Officially Licensed Brands on Zazzle
TV, Film, Pro & College Sports, Pop Culture, Armed Forces, Causes + More. Free Personalization!