Bachelorette Party Invitations
Find the perfect bachelorette party invitation with elegant to sassy themes from vintage & retro, Las Vegas casino, Mr. & Mrs. + more unique themes. Choose from many card sizes, personalize with names, date, location, message & other info, depending on design. Click on any image to search directly at Zazzle for a specific theme, for example: I Do shirt, naughty bride, bride's posse, maid of honor shirt.
Please contact the artist who created the design if you have any questions or want other customizations.
Jump to More Themed Wedding Invitations | Bridal Shower / Bachelorette Gifts + Party Supplies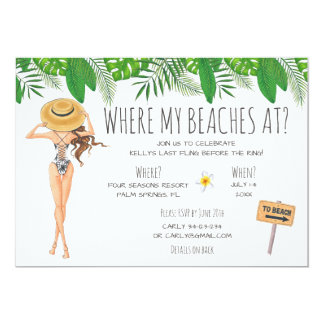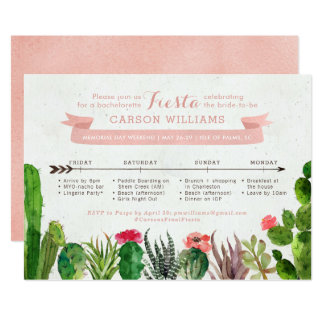 Desert Bachelorette Weekend Schedule Invitation
This invitation is part of the "desert succulent" collection, and features a timeline for giving your girls all the weekend's details! Easily edit any text, or click the "edit" button to remove text for any days you don't need. The background and text colors can also be changed using the "edit" button for a truly customizable look. Don't forget to add a packing list or any other details to the back!
by
PinkHousePress
$2.01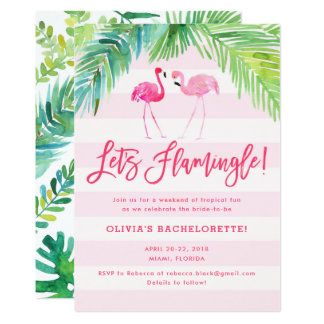 Tropical Flamingo Birthday or Bachelorette Invite
This tropical invitation features watercolor flamingos and palm trees, perfect for any event from a bachelorette to birthday party to a shower of any sort! Templated text provides for several lines of information, and can be added or subtracted to using the "customize" button. See the rest of the watercolor tropics collection for accompanying accessories!
by
PinkHousePress
$2.01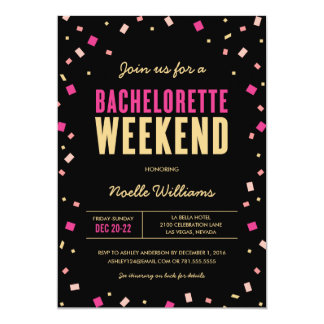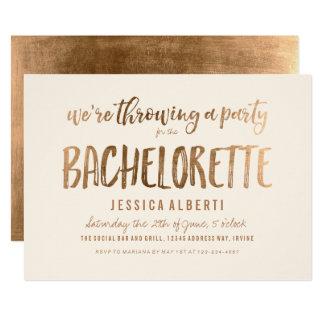 Gold Shimmer Chic Bachelorette Party Card
Customize the paper type and color to suit your bachelorette party. We're throwing a party... (for the) Bachelorette all in custom gold type with editable bride's name and event details. Background and Backer color are customizable. Click "Customize It" and use the swatches on the right to change the background color. The eyedropper tool gives you even more swatches, and "advanced" link opens the entire spectrum. You can also copy and paste a hex value if you have one.
by
beckynimoy
$1.90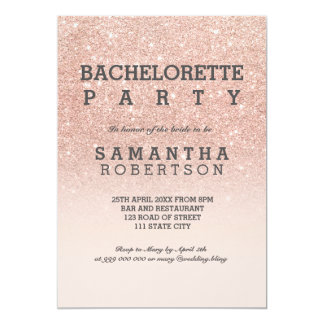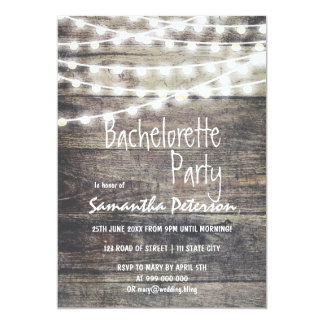 Rustic wood and string lights bachelorette party card
Girls night out for the best Bachelorette party before she ties the knot! Rustic wood and string lights bachelorette party invitation. vintage gray wood background decorated with string of lights. Perfect wedding invite for wedding with night lights wedding theme, barn theme, garden theme, outdoor wedding with twinkle lights.
by
blush_invitations
$2.01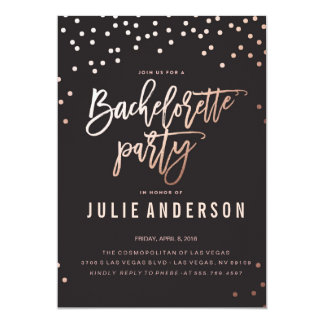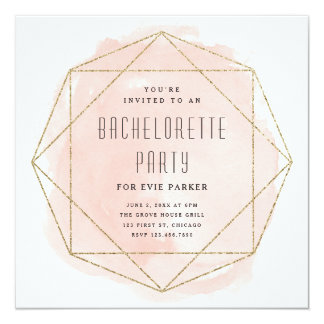 Watercolor faux glitter bachelorette party invite
This modern, geometric bachelorette party invitation features faux gold glitter facets on top of a watercolor background. All text is completely customizable and moveable. You can change the fonts, message, color and placement to make this design truly your own. Part of the Watercolor Gem Collection by Stacey Meacham. Look for coordinating items like stamps, thank you notes, stickers and more.
by
stacey_meacham
$2.31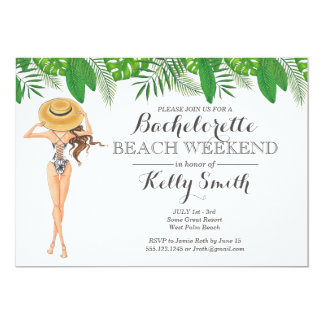 Current U.S. Zazzle Coupons
Shop Zazzle In: Canada | UK | Australia | New Zealand | España | France | Germany | Japan

Officially Licensed Brands on Zazzle
TV, Film, Pro & College Sports, Pop Culture, Armed Forces, Causes + More. Free Personalization!