Wedding Congratulations Cards
Wedding Congratulations cards with romantic, elegant, whimsical and funny themes that can be personalized. Choose from many card sizes, personalize with names, message & other info, depending on design. Click on any image to search at Zazzle for the exact style wedding card you want to give.
Please contact the artist who created the design if you have any questions or want other customizations.
Jump to Romantic & Popular Wedding Gifts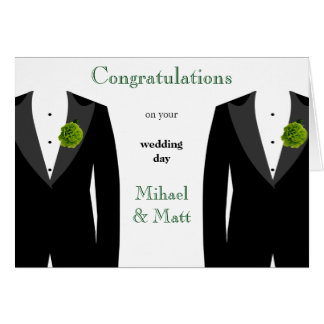 Green Carnation Gay Wedding Card for Grooms
In Victorian London and Paris, a green carnation on a lapel meant a lot for those with the eyes to see. Oscar Wilde and chums sported one frequently, much to the scandal and gossip of the populace when its meaning was revealed. Carnations may grow green naturally, yet it seems so unnatural in our view. Hence the historic symbolism for those whose leanings appeared against the norm in old Europe. Wear yours with pride on your wedding day, gentlemen. This is your history calling and all concerned still very much follow their nature.
by
AGayMarriage
$3.15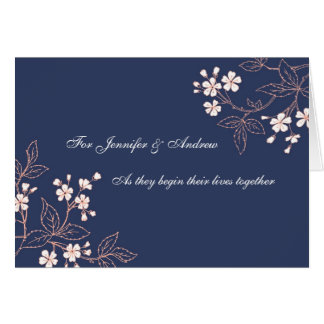 Couple Wedding Congratulations Card Blue Floral
Congratulations to a wonderful couple on their wedding day greeting card with vintage floral pattern in sophisticated peach coral pink, dark navy blue and white. Text is fully customizable for you to add your own personal message. Wish the newlyweds well with this unique card.
by
DreamingMindCards
$3.30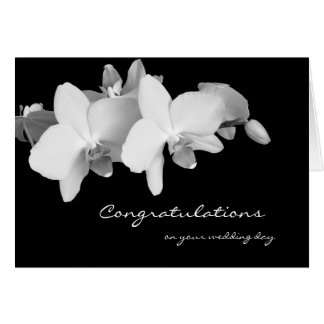 Wedding Congratulations Greeting Card
This wedding congratulations greeting card features a gorgeous black and white photo of orchids on the front, along with the words "Congratulations on your wedding day". Inside the card is one of the best wedding congratulations card verses you will find for the newlyweds. Copyright Kathy Henis
by
KathyHenis
$3.25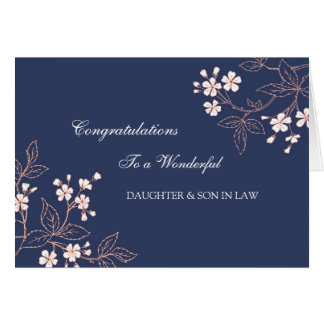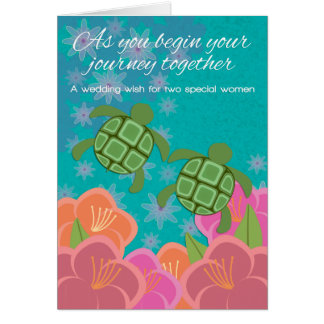 Honu Sea Turtles Lesbian Wedding Congratulations Card
A beautiful pair of sea turtles swim together in an aqua ocean. Surrounded by tropical flowers in shades of pink, orange and lavender, this couple creates a strong statement of unity to the newlyweds. A wonderful card to give to people having destination weddings in places like Hawaii or for anyone who loves the beauty and symbolism of these creatures. Original art, design and verse are © Penny Cork.
by
GreetingsByPennyCork
$3.30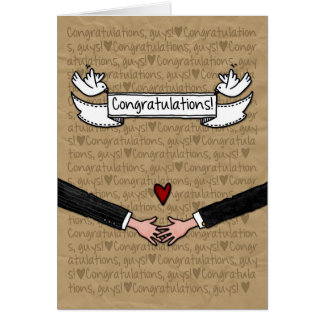 Congratulations - Gay Wedding Couple Card
2 tuxedo -clad arms coming in from the side. Above that a red heart and a banner flanked by two white doves wishing them "congratulations!" On the kraft paper background is a continuing "Congratulations, guys!" message with little hearts. Perfect for congratulating a just married gay couple.
by
cfkaatje
$3.30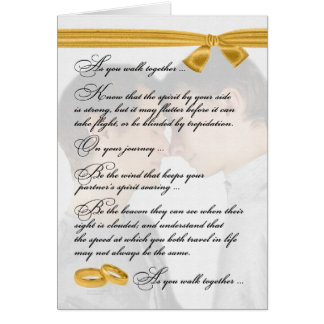 Gay Wedding Congratulations Two Grooms Card
"As You Walk Together" written by Doreen Erhardt is ©2013 protected. Send a sentimental message to the two grooms as they begin their journey as life partners. Background is Vintage Public Domain courtesy of ArtByChrysti. Card design ©St. George Salon of Art, LLC.
by
PersonalExpressions
$3.30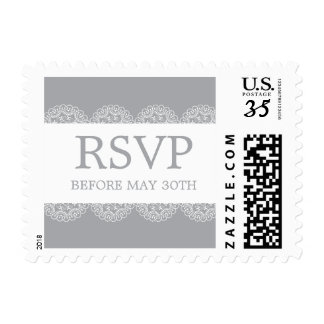 Elegant Grey Lace Wedding RSVP Postage
Simple lace pattern in grey to represent the elegant, it is prefect for romantic wedding ceremony. You can personalize this template, or you also can customize further which you are allowed to change the size, position, color of font in the design.
by
LiViWeddingDesign
$19.50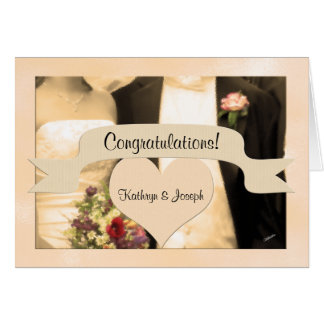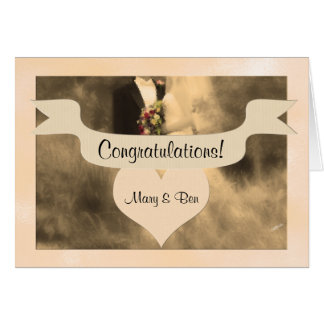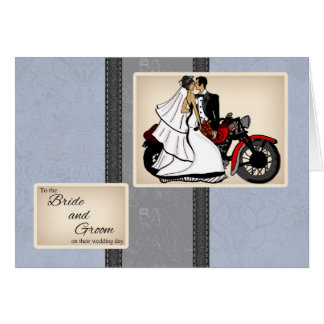 Current U.S. Zazzle Coupons
Shop Zazzle In: Canada | UK | Australia | New Zealand | España | France | Germany | Japan

Officially Licensed Brands on Zazzle
TV, Film, Pro & College Sports, Pop Culture, Armed Forces, Causes + More. Free Personalization!